Have a Project We Can Help With?

Services Overview
We consider ourselves a full-service provider for our Customers.  From laser cutting, machining, and forming to welding and powder coating, we can do it all for you. 
We can process the material and quantity you are looking for.  Yearly, we handle over 1 million lbs. of Mild Steel, Copper, Brass, Stainless Steel and Aluminum, in thicknesses ranging from 0.030" to 3/4".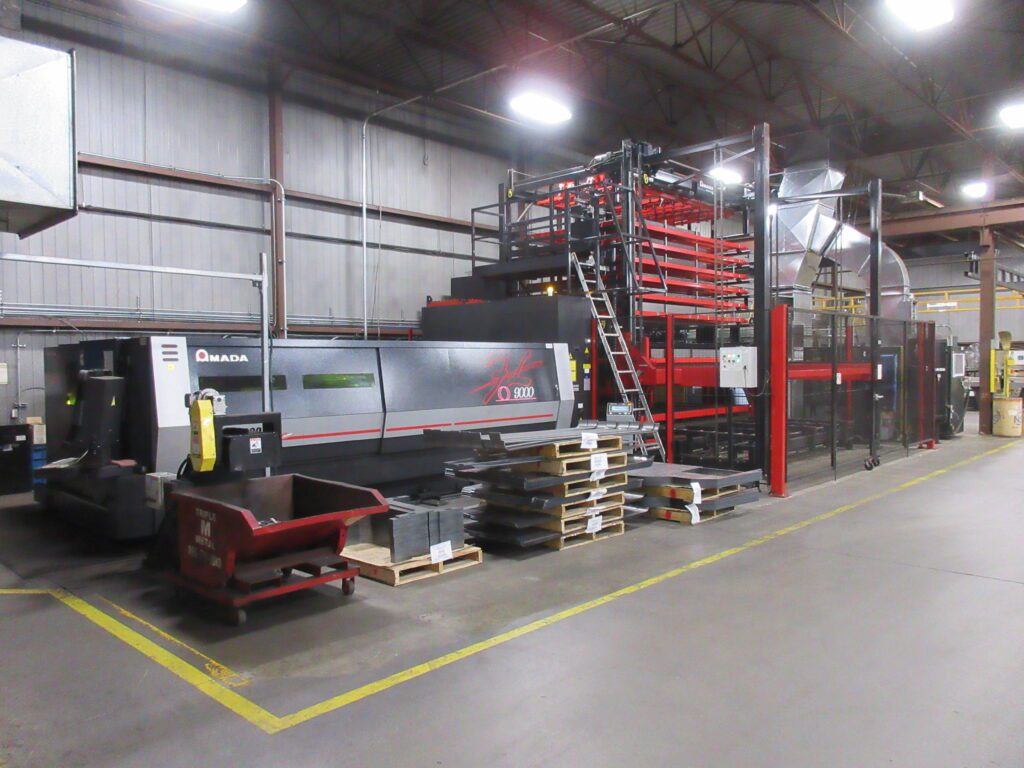 Horizontal Machining
We have several large horizontal machining centres capable of machining parts up to 800mm.  Precision machining to your specifications in quantities of your choice! From hundreds per day down to individual specialized prototypes and custom "one-off's" are all available. Tight tolerances and demanding Quality requirements ensure that your needs are met every time.  Machines with quick acceleration and short tool changes, along with easy to use machine interfaces enable our team members to do great things for our customers every day!
Vertical Machining
A variety of equipment allows for complete solutions to your manufacturing problems and opportunities. We have the ability to fulfill custom orders and large quantities alike! Our vertical machines have quick acceleration and short tool changes. Wireless real-time part monitoring technologies ensure the best possible results on every project. We use leading manufacturing techniques in all areas of the facility and focus daily attention on getting it right the first time!
Laser Cutting
We have the following machines for your laser cutting needs.
Our newest addition is the Amada 9000 W Fiber with material tower including 7 pallets for load/unload automation.
Amada 2000 W laser with a sheet dragger which has a working width of 60″ and with repositioning abilities can handle any length of sheet. This laser also provides the ability to team up with a turret punch to provide laser punch combinations. This allows us to punch and tap the features to the laser for cut profile.
Trumpf 3000 W equipped with a pallet shuttle system to maximize cutting time.
We also have access to any other sizes through our network of great material suppliers. There is very little that we can't source and provide.  Send us a request for proposal and let us prove it to you!
Press Brake Department
With a selection of CNC press brakes ranging from 60 to 250 tonne and bed lengths of 6 to 10 feet fully equipped with 6 axis back gauge and auto crown our press department is ready to serve. From production runs to that one of a kind replacement part our skilled staff are ready and eager for the challenge.  In die bending or edge bending processes, the sheet metal is bent through a controlled downward movement of the press beam. The flat sheet is pressed by an upper tool into a V-shaped lower tool (die) and reshaped in a straight line. The backgauges ensure that the workpiece is positioned accurately. We have an active forming department with a good variety of equipment size and capacity.
David Wilson Manufacturing Equipment List
Saw Cutting & Tool Room                                                            Download DW-Equipment-List.pdf
SOCO MC-275 PV Cutoff Saw – 6″w x 6″h
HYD-MECH H-18A HBS Horizontal Band Saw – 18″ x 18″
KBC Lathe – KBC-GH-1860ZX – 18"x60" w/3" Bore
King Rich KR-V2500 CNC Vertical Mill
 Turret Punch
2 – Amada COMA-567 Model COMA 506072 Turret Punch – 72″ x 60″ x 1/2″
 CNC Vertical Machining
2x Okuma MC-50VA – 41.34″ x 20.08″ x 22.05″
Okuma MC-4VA -25″ x 16″ x 17″
Okuma MX-45VAE -22.05″ x 18.11″ x 17.72″
Okuma MA-550VB – 51.18″ x 22.05″ x 22.05″
Daewoo DMV-500 -40.1″ x 19.7″ x 20.1″
Okuma MC-V4020 -40″ x 20″ x 17.7″
Okuma MB-46VAE -22.05″ x 18.11″ x 18.11″
Okuma GENOS M560-V -41.34″ x 22.05″ x 18.11″
 CNC Horizontal Machining
Daewoo ACE-H800 – 49.2163″ x 39.371″ x 39.371″
Okuma MA-600HB – 39.37″ x 35.43″ x 39.37″
Okuma MA-800HB – 49.2″ x 40.0″ x 39.37″
Okuma MA-800HB – 55.12″ x 49.21″ x 49.21″
Okuma MB8000-HB – 51.2″ x 43.3″ x 49.21″
Okuma MB-4000H – 22.05″ x 22.05″ x 24.61″
 Brake Press
Accupress 717510 – 175 TON 14″ Shunt
Accupress 7606 – 60 TON 14″ Shunt
2x Trumpf V230 DA-69TW – 258 TON 21″ Shunt, 12″ Stroke
Trumpf 5085 – 60 TON
Piranha Iron Worker P50 – 50 TON
Mex Rolls R250-50
StrongArm SP20T-SHD Shop Press – 20 TON
 Laser Cutting
Amada LC2415A – 99″ x 60″ x 1/2″
Trumpf TCL 3030 – 120″ x 60″ x 3/4″
Amada 9000 Ensis4020 Fiber Laser – 160″ x 80″ x 7/8″
 Quality
Mitutoyo C.M.M. BHN1015L Inspection CMM
FaroArm Edge Inspection device – Standard 7 axis